Alice Halstead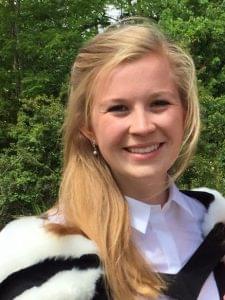 Alice grew up in Solihull, attended the Birmingham Junior Conservatoire, and was a founder member of the Girls' Choir at St Alphege Church. In 2008 she won BBC Radio 2 Young Chorister of the Year, making several appearances on BBC One's Songs of Praise, featuring in many national radio broadcasts and on Karl Jenkins' Christmas CD Stella Natalis.
She studied Geography at Cambridge University, where she sang soprano with the Choir of Clare College. The choir performed in venues across the UK, Europe, Asia and the USA, including the Library of Congress, Washington DC, and St John's Smith Square, London. Solo performances included Ihr habt nun Traurigkeit from Brahms' Ein Deutsches Requiem in the University Church Oxford and Pie Jesu from Faure's Requiem in the Petronas Filharmonik Hall, Malaysia. Alice has recorded nine CDs with Clare Choir, featuring as a soloist in S. S. Wesley's Blessed be the God and Father and Francis Greer's Panis Angelicus, reviewed in July's Gramophone magazine as "spellbinding … a voice to listen out for." Alice also appears as the soprano soloist on John Rutter's recent re-recording of his Requiem.
After Cambridge, she spent a year singing as a Choral Scholar at St-Martin-in-the-Fields, Trafalgar Square, whilst studying for a Masters in 'Violence, Conflict and Development' at SOAS, University of London. Alice has recently joined the Government Department for Business, Energy and Industrial Strategy, working on the Brexit negotiations! She continues to sing as often as possible
Matthew Long
Matthew was a successful treble soloist, singing the role of Miles in Britten's Turn of the Screw for Italian Opera houses. He studied music at the University of York and sang in the choir of York Minster during his time there. He later won a scholarship to the RCM, London. Whilst there he was a Susan Chilcott Scholar and a Royal Philharmonic Society Young Artist. At various times, he has been a member of the celebrated chamber choirs, The Sixteen and Tenebrae and continues to sing as a part of the solo voice ensemble, I Fagiolini.
Matthew has appeared as a soloist with many UK based ensembles, including The OAE, The English Concert, The Hanover Band, The Dunedin Consort, The Bournemouth Symphony Orchestra and the LPO. Highlights have included Bach, St. Matthew Passion for the Boston Handel and Haydn Society; Britten, War Requiem for Jonathan Willcocks in Salisbury Cathedral; Monteverdi, 1610 Vespers, at the Royal Albert Hall for the National Youth Choirs of Great Britain. This year he has performed the title role in Monteverdi's Orfeo to critical acclaim in a series of semi-staged productions in Norway and the UK with I Fagiolini. In December 2017, Matthew will sing the Evangelist for three concerts of Bach's, Christmas Oratorio with the Danish Radio Choir in Copenhagen. He appears as a soloist on the Dunedin Consort's recent release of Monteverdi, 1610 Vespers.
Matthew's debut solo disc with the LPO and accompanist Malcolm Martineau, Till the Stars Fall, was released in 2015. Recorded at Abbey Road Studios, gems from the English song repertoire sit alongside folk songs in celebration of some of Britain's finest music. He will perform this programme in May 2018 as part of the "Music in the Cotswolds" festival for Martin Randall Travel.
Peter Irving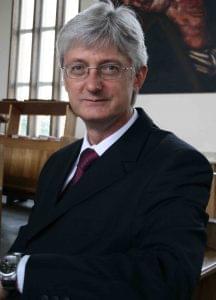 Peter Irving was educated at King's School, Worcester and the University of East Anglia where he was Organ Scholar at Norwich Cathedral. After graduating in 1982 with the highest finals performance marks, he was appointed Second Assistant at Winchester Cathedral and during his time there was awarded the Turpin and the Durrant Prizes in the 1983 FRCO examinations. After taking up the post of Organist and Choirmaster at Solihull School in 1984 he studied with Thomas Trotter and added to his previous achievements by becoming a prize-winner in the 1986 Llandudno Organ Competition as well as a semi-finalist in the 1987 RCO Performer of the Year. In May the following year he was awarded the John Brook Memorial Prize in the Royal College of Organists' Choirmaster's Diploma examination.
During his 26 years as Organist and Choirmaster at Solihull School, Peter directed the Chapel Choir in its first live BBC broadcast, produced three recordings with Priory and Regent Records and took the choir to sing at some of Britain's major cathedrals, including Canterbury and Gloucester Cathedrals. In addition to this, Peter coached the treble choristers in a number of operatic projects, including two rare performances of Britten's Church Parables at Symphony Hall and the BBC Proms, as well as Puccini's Tosca and Turandot at the Royal Albert Hall. As a freelance organist Peter has toured the USA, performed live on BBC television and radio, at numerous cathedrals across the UK and in premiers of works by Ben Parry, Jonathan Dove and David Briggs. Recent performances have been at Symphony Hall with the CBSO, St. George's Chapel Windsor, Gloucester, St. Albans and St. Paul's Cathedrals. Having recently retired from teaching, Peter currently holds the position of Organist at Solihull School Chapel.
Save