Alexander Woodrow
Alexander is co-conducting our Rutter concert in April 2017. He is leading the performance of the Requiem.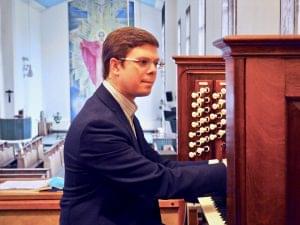 Born in York in 1986, Alexander Woodrow is the Head of Choral Music at Solihull School, where he is responsible primarily for the thriving chapel choirs.
For almost five years, he was Organist and Director of Music at Bradford Cathedral, serving as the youngest Cathedral Organist in the country. During his tenure at Bradford, the treble lines of the Cathedral Choir were divided into separate boys' and girls' ensembles, a programme of chorister tuition and development was introduced, a choral scholarship scheme initiated, and an organ restoration project was launched. After decades of abeyance, the Cathedral Choir began to broadcast again on national BBC radio and television, and to tour regularly. Alexander was also responsible for the choral ensembles at Bradford Grammar School between 2012 and 2016.
Alexander read music as Organ Scholar at Magdalene College, Cambridge, studying with Anne Page. He became a Fellow of the Royal College of Organists at the age of 19, winning first prizes in all categories, including the Limpus Prize. He is also a Fellow of Trinity College London and a recipient of the Silver Medal of the Worshipful Company of Musicians. Solo organ recitals have taken Alexander to many of the major churches and Cathedrals of the UK, including York Minster, King's College, Cambridge, and Westminster Abbey.
Solihull School Chamber Choir
Solihull School Chamber Choir consists of senior pupils at Solihull School and exists primarily as a liturgical ensemble that sings Sunday choral services in Solihull School Chapel. The choir frequently broadcasts for BBC Radio 4's Daily Service, and in July 2016 gave a live BBC broadcast of 'Sunday Worship'. Domestic and international touring has been a feature of the choir's activities, most recently to Normandy in August 2016, and the choir has on five annual occasions visited St. Paul's Cathedral to sing Choral Evensong. Commissioning of new choral music has been a key feature of the choir's activity, with the latest premiere, Will Todd's 'Adam lay ybounden', given at the Festival of Nine Lessons and Carols in December 2016. The choir is directed by Alexander Woodrow, the school's Head of Choral Music, who succeeded Oliver Walker in September 2016.
Save