Musical Director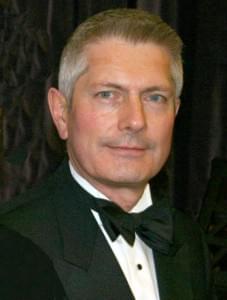 Birmingham-born Andrew Fletcher was educated at Moseley Grammar School and Keble College, Oxford, where he read music. A chorister at Yardley Parish Church from the age of seven, he quickly developed a strong interest in the organ and choral music.
His reputation as a choral director was established during his eight years as Director of Music at St. Mary's, Warwick, and he has since held posts in Swindon, Hall Green, and St. Thomas's, Stourbridge. He is obsessive about diction, voice production and tuning, but above all about blend, and believes that the test of a real choir trainer is how well he or she succeeds in achieving professional standards with amateur singers.Andrew came to Solihull Choral Society (then the Margaret Wharam Choir) as a stand-in whilst Margaret was in hospital. Her untimely death led to his appointment as conductor of the choir, thence known by its present name. He has endeavoured to build on Margaret's firm foundations and is proud to direct this fine, responsive choir.When not conducting choirs, his time is spent teaching piano, organ and theory, composing, directing masterclasses and giving organ recitals both here and abroad. 
For further information visit Andrew"s website
.
Choir members
The choir numbers around 60 singing members.
Soprano
Alto
Tenor
Bass
Jenni Bradbury
Kathy Carter
Sue Coates
Susan Fawcett
Linda Grimshaw
Fran Halstead
Sheridan Hunt
Alice Hunter
Gill King
Alison Lang
Joan Lilburn
Sophie Mitchell
Jane Perera
Mary Pierssiene
Pamela Price
Lily Pulsford
Ann Ramsay
Elissa Renouf
Ruth Sabbagh
PaulineTregellas
Alison Vining
Sue Baker
Janet Gibbins
Liz Hamilton
Cornelia Heaney
Karen Hodson
Janet Ince
Gillian Jackson
Jo Johnson
Val Juneman
Helen Kiteley
Sue Lawrence
Judith Mallalieu
Janet Mercer
Helen Milner
Pauline Milnes
Katherine Mulekezi
Darryl Murrin-Foyle
Carolyn Small
Caroline Stokes
Janet Thomas
PamWatkins
 Judith Currie
John Hickman
Mike Norris
John Pearson
John Wilkinson
GeorgeBomford
Ian Davidson
Simon Durk
Mark Emms
Myles Lang
David Lewis
Samuel Lewis
Colin Price
David Sturdee
Ian Thomas
Geoff Wyatt
Committee
SCS has an active committee who meet 6 times a year. With the exception of the Music Director, who is on the committee ex officio, committee members are elected at the AGM.
| | |
| --- | --- |
| Chairman | Geoff Wyatt |
| Musical Director/Conductor | Andrew Fletcher |
| Treasurer | Helen Kiteley |
| Secretary |  VACANCY |
| Concert Manager | Victoria Worship |
| Print and Design | Gill King |
| Marketing and Recruitment | Elissa Renouf / Liz Hamilton |
| Fundraising | Pam Price |
| Concert Bookings | Helen Milner |
| Librarian | Sue Baker |
| Membership | Pauline Milnes |
| Website | Mark Emms |